Ellen Maiorano



I Is Another - March 6
~Play, Play, then Hide it Away~
Originally inspired by the opportunity to play or interact with various objects and forms in the space, I drew upon the themes of guilt and the Catholic ritual of Confession that had already been introduced into the work. Like a curious child or Goldilocks herself, I play, touch and use people's things without asking, but must hide everything away afterward, while asking for forgiveness.
Powered by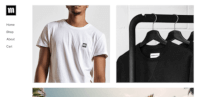 Create your own unique website with customizable templates.